Click and… SHOP THE LOOK:
Here there are some of the pictures we took during London Fashion Week, as always it's fun and inspiring trying to capture the best outfits to show them to you here on the blog. We have taken way less photos than we usually do in Paris, it has been more difficult to find inspiring and cool outfits among all the people around the shows but I do love the ones shown above! Hope you like them too and you get some inspiration from them! Happy weekend!
Hoy os enseño algunas de las fotos de streetstyle que sacamos durante la semana de la moda de Londres, siempre es divertido e inspirador hacer fotos de streetstyle para enseñárolas luego por aquí. La verdad que hemos hecho muchas menos fotos de las que solemos hacer en Paris, y es que en Londres me ha parecido más complicado encontrar outfits chulos para enseñaros entre tanta gente que hay merodeando por los desfiles. En Paris mires donde mires se te van los ojos (no se si me entendéis…). En cualquier caso los looks o detalles que hoy os enseño me gustan, espero que os gusten e inspiren también a vosotras. ¡Buen finde!
  COS 
coat
h&m trend
suede top
 (real deal
here
) h&m jeans (similar
here
,
here
)
Old ankle boots
Celine bag (similar
here
)
Old scarf
Rayban sunnies
Click and… SHOP THE LOOK:
I know… the same COS coat, the same Rayban sunnies, same shoes…all week long! But I've been in London for almost a week and I didn't  checked in any luggage, just brought with me the minimum in my hand suitcase. I won't wear this coat for a while now! I need a break from it! By the way, I will tell you more about London Fashion Week tomorrow, and (hopefully) show you some streetstyle pictures!
Regarding today's outfit post, the jeans and the suede top are rescued old goodies. I can't even remember how old the jeans are, however, the top is from 5 years ago. I'm not a hoarder and I like to clean out my closet every now and then but sometimes it's so worthy to keep some things until they are back in fashion, because they always are! Have you rescued any flared or wide jeans from your closets already?
Otra vez el mismo abrigo de COS, las mismas gafas de sol, botines… es lo que toca esta semana. He estado en Londres casi una semana y no facturé maleta, así que con lo que me cupo en la maleta de mano he tirado estos días, pese a ser mi abrigo favorito, ahora mismo…¡estoy un poco harta de él!. A ver si mañana me da tiempo de poner algunas de las fotos de streetstyle que hemos hecho estos días y os cuento un poco.
Respecto al look… el top de ante y los vaqueros anchos los he rescatado del fondo de mi armario. ¡Ni sé los años que tienen los vaqueros!, el top me acuerdo que lo compré hace 5 años  y creo que ya ha salido antes por el blog. Yo no soy muy de guardar ropa, hago limpieza de armario cada cierto tiempo y mucho va fuera pero la verdad que hay veces que merece la pena guardar (ójala más espacio) y esperar hasta que ciertas prendas vuelvan a estar de moda, ¡porque todo acaba volviendo! ¿Habéis rescatado alguna prenda de hace años del armario?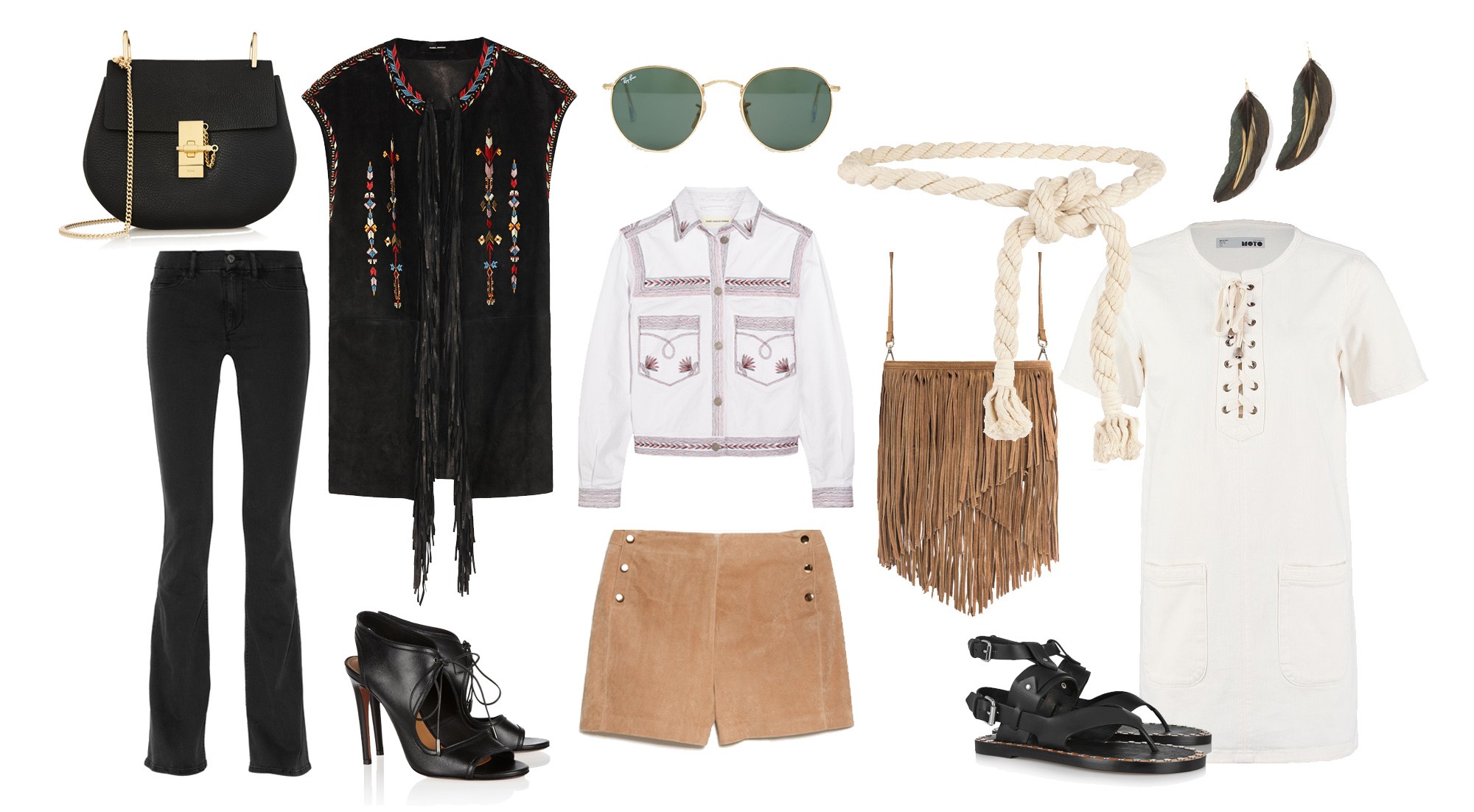 Click the icons to shop the clothes!! // Haz click en los iconos para comprar la prenda directamente  
Chloé Drew bag
Mih Jeans Marrakesh flares
Isabel Marant suede vest 
Aquazurra sandals
Rayban sunnies
Isabel Marant etoile denim jacket
Mango suede shorts
Isabel Marant rope belt
Mango suede fringed bag
Isabel Marant sandals
Mango earrings
Topshop dress